Social Media have been a important part of the advertising industry nowadays, by putting the creativity into the works and collaborated closely with my social media strategist partners, we've been successfully helped client's social media platform to gain their brand exposure by up to 1400% (compare to 3 years ago), here are some selected works:
(All contents were self-created, $0 budget involved)
Chinese New Year – Blessing from the Flight Attendants
The Challenge:
Client was having a Flight Attendant Performance at a shopping mall during Chinese New Year and they wanted to feature this event on social media. Although we don't have any budget on this project, but what can we do instead of just to post a single documentary photo of the event?
The Idea – Chinese New Year Blessing from the Flight Attendants
We created a series of magic tricks performance for the Flight Attendants, using a unique editing style to make the magic comes to life.
Each magic trick also related to a famous Chinese New Year Blessing greetings, wishing all the best to Hong Kongers in different ways.
The insight:
Speaking of different languages are always the most challanging part of your trip.
Cantonese is well known of a language that very hard to pronounce for foreigners.
If you are coming to Hong Kong and want to explore the city like a local,
that will be extremely helpful if you can get well prepared before the trip to Hong Kong.
The Idea - The Phrasebook
We started a platform of teaching people how to pronounce the most useful terms in Hong Kong.
To create the thumb stopping moment, we go through the whole Hong Kong to explore the most iconic Hong Kong spots/activities, and film them in a cinema-graphs style, show casing the beauty of Hong Kong and educate the tourists at the same time.
The Challenge:
The most up to date airplane model A350 have been joined Cathay Pacific as the new member, apart from the flying performance, this model also gives a better in-flight experience to the customers, what we can do to showcase all new functions on the social media platform?
The Idea – Stop motion films
We come up with a series of stop motion films, featuring all new functions of the new A350 to people at once.
Seasonal
The insight:
Everyone knows that Santa Christ usually are very busy during the Christmas time, but not much people really spotted him on the sky… (that's almost every kid's question)
The idea:
To answer this myth of century, we come up with a seires of social posts and post them in the weeks of nearly by the Christmas time – 25Dec.
Reporting the actual locations where the Santa Christ was, and he finally arrvied Hong Kong at 25Dec.
Finally, we can proof to the kids that he is actually exsisting.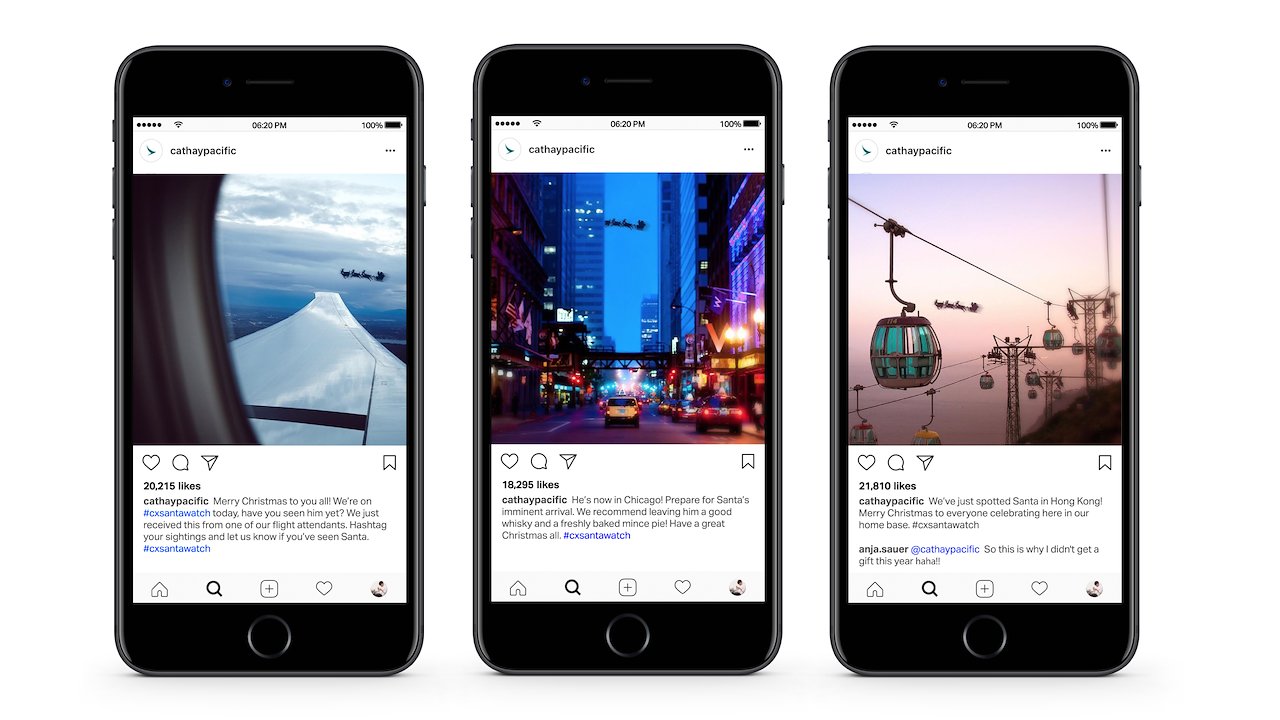 Bosch - MUM2 series product launch online video